Sanitary Hose Assemblies for Bio-Pharm Applications PTFE vs Silicone
Most pharmaceutical process applications have sanitary hose assemblies somewhere in their systems, such as load cell isolators, portable tank hook ups, CIP jumpers or any one of a dozen other applications. Some specifications are common to most pharmaceutical sanitary hose assemblies. They need to be steam sterilizable or autoclavable. They need to have product contact materials that have been tested to meet USP Class VI requirements. Most hose materials that we deal in meet FDA guidelines, but there are only two that meet the pharmaceutical requirements: Platinum cured silicone and smooth bore PTFE (Teflon). Which one is better? It really depends on your application and what you are trying to accomplish.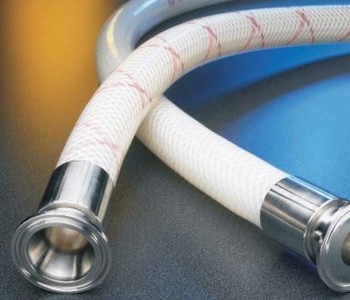 Properties
Light in weight
Very flexible
Cannot take what is normally considered high pressure
Sizes from ¼" to 4"
¼" -1" is generally extruded material with a braid reinforcement
Mandrel wrapped, cloth reinforced 4 ply hose is available from ½"-4", normally with a wire helix
Silicone hoses have very little tensile strength on its own. The braided material can stretch a little.
Silicone hoses can be somewhat gas permeable.
Good but not great chemical resistance. Silicone does not do well with many solvents
Downloads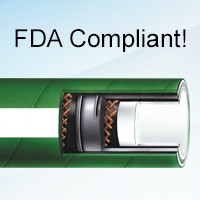 Rubber Fab RT Smooth-bore Teflon Hose (FDA-Compliant)
Rubber Fab's RT hose is a Smooth-bore FEP lined EPDM Rubber Covered Hose perfect for pharmaceutical applications as well as water, acid and chemical transfer. The RT hose is also a good choice for distillery piping systems and food and beverage processing. As with all Rubber Fab hoses, the RT hose has been through rigorous testing and is FDA 21 CFR  177.1550 and 177.2600 Compliant! CRN is available if requested at time of order. 
WE ARE COMMITTED TO PROVIDING QUALITY SOLUTIONS
Tri-Canada is a proud supplier of the top product lines for biotech, pharmaceutical and food & beverage industries. We partner with the best companies to bring you an unmatched array of components to meet even the toughest application requirements. From tubing to single-use assemblies to pumping solutions, Tri-Canada has the selection you need with expert guidance to match, ensuring you get the right product for your application every time.
Speak with a Dedicated Representative today!