Tri-Canada has a variety of sizes and variations of sanitary pressure gauges available. 
For more information on Sanitary Pressure Gauges, available from stock at Tri-Canada for same-day shipment, please see the following information:
Features
Options Available
Downloads
Features
• 2.5" or 4" Dial Face with Acrylic Lens and 304 Stainless
Steel Case
• 316 Stainless Diaphragm with Electropolished Internals
• Autoclavable
• 1.5" and 2" Triclamp Fittings (Other Connections Available)
• Liquid-Filled
• 3A – Approved
Options Available
Downloads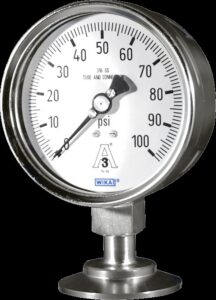 WE ARE COMMITTED TO PROVIDING QUALITY SOLUTIONS
Tri-Canada is a proud supplier of the top product lines for biotech, pharmaceutical and food & beverage industries. We partner with the best companies to bring you an unmatched array of components to meet even the toughest application requirements. From tubing to single-use assemblies to pumping solutions, Tri-Canada has the selection you need with expert guidance to match, ensuring you get the right product for your application every time.
Speak with a Dedicated Representative today!