T-FIT Insulation Offers a Trustworthy Insulation Solution for a Variety of Manufacturing and Cleanroom Environments
T-FIT Insulation offers products for a variety of manufacturing and cleanroom environments. With unmatched performance and minimal maintenance, T-FIT offers a trustworthy solution for your application. From start to finish, T-FIT makes insulation decisions easy. Installation is simple and straightforward, even when time and space are tight. The modular design of the insulating components makes maintenance inspections a simple 'open and close' operation. And with a decade and more of active service ahead, the investment is easy to justify. Not only does the T-FIT range combine the highest performance with the highest levels of protection from an insulation material, but a service life measured in years makes for a Total Cost of Ownership that boosts the bottom line.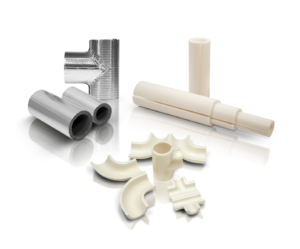 WE ARE COMMITTED TO PROVIDING QUALITY SOLUTIONS
Tri-Canada is a proud supplier of the top product lines for biotech, pharmaceutical and food & beverage industries. We partner with the best companies to bring you an unmatched array of components to meet even the toughest application requirements. From tubing to single-use assemblies to pumping solutions, Tri-Canada has the selection you need with expert guidance to match, ensuring you get the right product for your application every time.
Speak with a Dedicated Representative today!