LJ Star introduces their newest product - MetaPlex Sanitary Window and Sight Port
The MetaPlex Optical Grade Polymer sanitary window collection is a new patent-pending product specifically designed for applications where glass is not the desired choice. Although there are other glass alternatives on the market, they simply can't compare to the performance specifications found in the MetaPlex sanitary window:
Only sanitary window on the market that offers the steel ring
Extremely strong and chemically resistant to acids, alkalis (caustics) and alcohols
Only plastic sanitary window that can withstand:

Temperatures up to 134° C
Operating temperatures to 100°C and
Operating pressures up to 150 PSIG

Glass-like transparency with enhanced safety
Stronger than competitor units that are all-acrylic
Durable enough for use CIP and SIP cycles
Metaplex offers simple and fast installation because of its sleek, compact, one-piece design. In addition, there is no risk of glass fragments infiltrating the process media. The MetaPlex can replace glass sight windows for applications where glass is not ideal to be used such as food/beverage processes.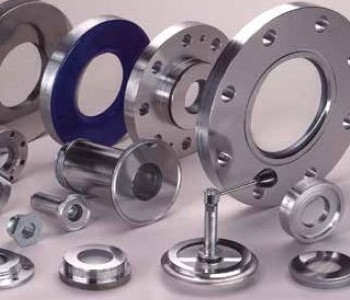 Viewport Sanitary Sight Glass
The strongest, most secure sanitary sight glass indicator available, Viewport's mechanically prestressed windows are available in a sanitary clamp design for sight ports in processing applications or inline visual flow indicators. Unlike some other sight glasses, Viewport sight glasses meet the USP Type 1 standard for pharmaceutical use. Described as offering the optics of glass and the strength of steel, these glass elements provide a level of safety, and a useful service life, well beyond that provided by conventional tempered glass or plastic used as sight glass indicators. Even at the most extreme temperatures (as high as 536° F) or in overpressure situations, sudden, total failure – that involving leakage or explosive shattering of the glass – essentially never occurs. Viewport windows are formed by melting borosilicate glass into a precisely formed metal ring. As the glass cools, it solidifies, preventing the metal ring from contracting back to its theoretical size. The result is a uniform, mechanically prestressed fusion of glass and metal that combines excellent optical characteristics with greatly enhanced physical characteristics. A standout of sight glass indicators, the Viewport discs have an uninterrupted surface with no crevice to trap bacteria, epoxies, resins, or glue – a true fusion. The standard surface finish is 10 Ra μ-in (0.25 Ra μm). Electropolishing available upon request.
Specifications
Applications
Specifications
– USP Class VI (tested to confirm biocompatibility)
– TÜV Approved and BPE Compliant
– Sight glass fused to metal conforming to DIN7079
– Borosilicate Glass to DIN7080
– Standard surface finish of 10 Ra µ-in (0.25µm)
– Material to ASTM/ASME, TÜV and DIN/EN standards
– Certificate of Conformity to EN 10204-3.1B or 3.1A
– Pressure Equipment Directive 97/23/EG
Applications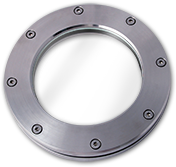 METAGLAS® is made by melting borosilicate glass inside a metal frame, which results in the fusion of glass and metal.
Upon cooling, the glass solidifies and the difference in the linear coefficient of thermal expansion between glass and
metal produces forces that create a uniform compressive stress throughout the glass. The unique properties of METAGLAS® also make it ideal for use with hygienic systems. MetaClamps® are available as sight glass caps for sanitary clamp connections and In‑line systems.
Applications
Approvals & Technical Data
Applications
View Ports are manufactured to fit sanitary clamp connections. With simple, fast installation and no risk of breakage, this sleek, compact, one piece design provides a cleaner look, less bacteria traps, and unsurpassed safety. The View Port sight glass can be used as a viewable port mounted on a ferrule, a "cross" for inline visual flow indication or as a light port. Many other connection types are also available. Materials available include 2205 Duplex Stainless Steel, Hastelloy, Monel® , and Inconel®.
Approvals & Technical Data
Tri-Canada Compact Sight Glasses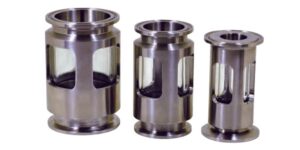 Features
• easier to clean than bolted styles
• less cost to repair than bolted styles
• clamp connections standard
• sizes available: 1″, 1½", 2″, 3″
• maximum temperature: 200°F (93°C)
• maximum pressure: 100 PSI
Applications
Versilon Sight Flow Indicators
Versilon Sight Flow Indicators are used extensively in Food & Beverage Applications. Versilon Sight Flow Indicators are constructed with a translucent heavy wall FEP tube that permits visual inspection of conveyed material. The FEP tube will not break in high stress applications. Sight Flow Indicators allow flow, aeration, turbulence and cleanliness check. Saint-Gobain offers a wide variety of Sight Flow Indicators: dip tubes, liquid level indicators, inspection ports, Flare-Thru flanged sight flow indicators and caged FEP sight gauges.
Tri-Canada Strainers & Filters
Tri-Canada Strainers & Filters are used in various fluid handling applications throughout the Food & Beverage Industries.
WE ARE COMMITTED TO PROVIDING QUALITY SOLUTIONS
Tri-Canada is a proud supplier of the top product lines for biotech, pharmaceutical and food & beverage industries. We partner with the best companies to bring you an unmatched array of components to meet even the toughest application requirements. From tubing to single-use assemblies to pumping solutions, Tri-Canada has the selection you need with expert guidance to match, ensuring you get the right product for your application every time.
Speak with a Dedicated Representative today!